Around the country and around the globe, sharing good food with friends is one of life's simplest and most satisfying pleasures, which is why fresh, made-from-scratch, award-winning cuisine is central to Celebrity Cruises' modern luxury vacation experience. When friends not only share a meal but share in the preparation, the results are even more exceptional. Such will be the case at midnight this Friday, July 13, 2012, at Miami Beach hotspot Yardbird Southern Table & Bar, when Celebrity Cruises' director of culinary operations, James Beard Award-nominated Chef John Suley, joins longtime close friend and fellow James Beard nominee Chef Jeffrey McInnis as part of the highly acclaimed restaurant's Midnight Chef's Table Series.
The ongoing dinner series, which offers foodies the opportunity to dine family-style with notable and up-and-coming chefs, is presented in an intimate setting in front of Yardbird's open kitchen. Suley will create a menu reflective of his modern, upscale, creative approach to simple, stunning presentation, evident in Celebrity's luxurious culinary offerings. The menu will also reflect Suley's friendship with McInnis and their history of cooking together, both professionally and personally. The two will host the dinner together in a casual, relaxed style typical of the Midnight Chef's Table and Yardbird's friendly ambience, giving diners a glimpse into what makes them successful as chefs as well as an opportunity to hear about their history together.
"Jeff was the first person I met when I moved to Miami in 2006, and now he's one of my best friends," Suley said. "We've seen a lot of growth in each other's careers in the past few years. Jeff has a great ability to adapt to any environment, and he cooks food that is tasty, clean and simple, while bringing a great energy to create an upbeat vibe – you can see it every day at Yardbird. We've worked together formally and informally, but we have the most fun when we hang together and cook, whether it's at each other's houses, on his boat, or doing nothing at all! "
"John and I have cooked a lot of great food together over the years," said McInnis. "July 13th will not just be a reunion of two great friends, but also a reunion of great food and I'm very much looking forward to it!"
Most seating at the July 13 dinner has been reserved; to see if tickets are still available, call (305) 538-5220.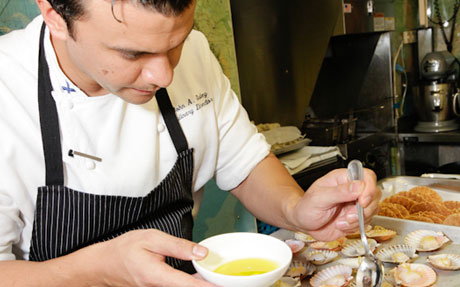 An accomplished, dynamic chef who has worked with some of the world's leading culinarians, Suley leads the team of more than 2,000 chefs behind Celebrity Cruises' award-winning cuisine, one of the most memorable aspects of Celebrity's modern luxury vacation experience. On every Celebrity cruise, guests enjoy sophisticated, globally influenced and artfully presented cuisine and impeccable service in stunningly designed restaurants. Celebrity also offers "Excite the Senses" culinary theme cruises on select itineraries.
About Celebrity Cruises:
Celebrity Cruises' iconic "X" is the mark of modern luxury, with its cool, contemporary design and warm spaces; dining experiences where the design of the venues is as important as the cuisine; and the amazing service that only Celebrity can provide, all created to provide an unmatchable experience for vacationers' precious time. In addition to offering vacations visiting all continents, Celebrity also presents immersive cruisetour experiences in Alaska, Australia/New Zealand, Canada, Europe and South America. One of the fastest-growing major cruise lines, Celebrity is one of five cruise brands operated by global cruise vacation company Royal Caribbean Cruises Ltd. (NYSE, OSE: RCL). Celebrity's fleet currently consists of 10 ships, with an additional Solstice Class ship, Celebrity Reflection, scheduled to join the fleet in fall 2012. For more information, dial 1-800-437-3111, visit www.celebritycruises.com, or call your travel agent. Follow the brand socially at www.facebook.com/celebritycruises.
About Yardbird Southern Table & Bar:
Opened in October of 2011, Yardbird serves traditional southern fare with a modern twist amidst white brick walls and refurbished barn wood. The latest creation from 50 Eggs Restaurant Group, the company behind the widely popular Lime Fresh Mexican Grill, Yardbird is a down-to-earth joint that preaches the gospel of good food and good company. Since its opening, Yardbird has received three and a half stars from the Miami Herald and the South Florida Sun Sentinel, was a semi-finalist for James Beard Award and has received mentions in: GQ, Departures, Travel & Leisure and the New York Times. Located at 1600 Lenox Avenue in Miami Beach, FL, Yardbird is open for brunch, lunch, and supper. For more information, visit www.RunChickenRun.com.